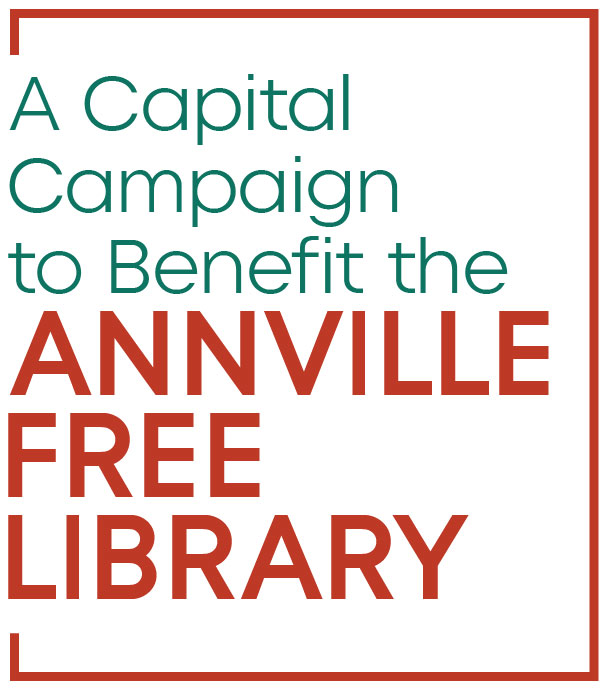 Writing The Next Chapter
A Message from Carol Christ, Honorary Campaign Co-Chair
In 1949, Gideon and Alice Kreider responded to the need for a permanent home for Annville's Library. I was just a young child, but their gift to our town inspired me. As an avid reader, I used the Library to fill my every need for books, children's programs, and community services. Throughout the years, I proudly transitioned from patron to volunteer, Children's Librarian, and, ultimately, Library Director. Over time, the Library has continued to change and adapt, as needed, to serve the broader community while retaining a culture of friendliness and helpfulness among the staff and volunteers.
After seventy years, the Library has again outgrown its home. The proposed expansion is lovely and is appropriate to the streetscape within Annville's historic district. Bill and I are pleased to continue the Kreiders' generous spirit by making a financial gift to the Library's expansion project. We are honored to serve as honorary co-chairs and hope you will be inspired, too, to extend the opportunities for learning and growth within our community.
The story of the Annville Free Library has always featured the close association of the Library with its community. We invite you to join us in investing in this vital capital campaign. Please help us write the next chapter in Annville Free Library's mission to serve current and future generations.
Your Gift Makes A Difference
A Growing Community
A-C school district the 11th fastest growing in the state.
Lebanon County 2nd fastest in growth 2010 – 2018.
Seniors up by 25%.
Meeting Patron Needs
Wish for additional programs.
Access to media and technology.
Requests for public meeting space.
Safe area for youth to gather.
Ease of access for all.
A Design for Growth
3380 ft2 addition connects to renovated Main Street duplex.
Youth now upstairs with patio access.
Entire basement dedicated to children's collection and programming.
Both Main Street and parking area entrances now ADA compliant.
New family restrooms, two on the main floor, two in the lower level.
Help write our next chapter today!
The times are changing and our library must also change to meet community needs. The library moved into its first permanent home in 1950. In 1990 an addition provided more space for an increasing number of users.
More than 30 years have passed since then, and needs continue to change. The community now asks for increased programming for all ages in addition to the ever-popular programs for children and youth. Besides being a place to find information, computer access, and to check out books and other materials, the library provides a community center for folks to meet and work without requiring any purchase or affiliation.
This website illustrates the library's response to these needs. Writing the Next Chapter cannot be the work of just a few. Without substantial community support, the vision will remain a mirage. Time to pick up a pen and help get the job done!